Testimonials
It's always nice to hear from you
Ha, ha, just a perfect experience in the retreat – thank you for glueing our group together and sharing so much wisdom.
I was so stressed before I landed in Koh Phagnan to do the healing and awakening yoga retreat with Satyama. I just did everything suggested, the meditation, the yoga, even tried some tantra massage and experimentation with communication through a great tool called forum. You could say that I am completely transformed…
The teachings in this recent experience in yoga and meditation are fantastic. Satyama has a great sense of humour, which lightened up my mood even when I felt exhausted by everything. It has taken my further on the path of love and self-development.
I has such a great experience. I didn't think it was possible to learn so much in a short time, even though I know I still know nothing I am confident I can use the teachings here moving forward in my life, and I would recommend a retreat with Satyama to anyone in transition or needing a break from their normal life.
Satyama is the right person doing the right thing. Her passion to give knowledge and tools to others is clear. Inspirational yoga discussions!
Well, you made me want to continue on this journey. Love your confidence, humor and you are for sure not just a skilled and qualified teacher, but also a warm hearted person. Lots of gratitude for this retreat…
Ha, ha, just a perfect experience in the retreat – thank you for glueing our group together and sharing so much wisdom.
Satyama is approachable, educated, informed, passionate, and the most enjoyable classes of my life were with her due to the energy she provides and environment she created.
Great classes are offered in the teacher trainings that Satyama leads. You have so much knowledge you pass on in an interesting and fun way. Your classes are very inspiring and always left me feeling enriched and uplifted.
Wow, I came to a retreat in Thailand thinking I was going to do a lot of yoga and lose some weight but I got a whole lot more when I did yoga, along with meditation. Open to Bliss retreats will help you look at things you've never revealed before, and you process, do incredible trust-building work, and come out feeling like a whole new person. I'd highly recommend doing something – many things with Satyama.
Satyama is a gem! In the yoga retreat I just attended, I really got to know her as a person, not just a yoga teacher. She is strong yet kind, intuitive and able to tell it like it is. A great yoga teacher and also Osho Therapist I believe. She knows how to lead a group in and out of all of our stuff, leaving us more free to be who we are! She knows how special we all are as well!
I clearly remembered our forums facilitated by Satyama in our Yoga Teacher Training. How much courage it took to get in the middle and how valuable it was too. This experience makes it easier for me to relate to the patients.
I just wanted to thank you for introducing it to our TTC and hope that it is still part of the ongoing courses.
Therapist
Psychosomatic clinic
Germany
I had a Chi Nei Tsang with Satyama. The inner shift was immediately present emotionally and by the next day I had the 'real life' parts sorted out. Very scary things I had to confront, all which went extremely smooth and lovingly!

Based on my personal experience, I would like to highly recommend her work.
Satyama is a kind and soulful practitioner. I was in a lot of emotional pain at the time and her abdominal massage helped ground me; it brought me out of the chaos of my head into my body again. Chi Nei Tsang is pretty intense, and I highly recommend trying it out. The positive inner shift is worth it.
I am inspired by your many types of bodywork, how you combine therapeutic healing and your potential to heal.
Satyama carries her gift of leadership to inspire expression in others. With her gentle and cheerful way of helping people heal from within, it is a sheer joy to be part of one of her workshops. I admire her authenticity.
Testimonials
I will be happy if you coud share your experience.
Do you like Yoga? Curious about Tantra? Learn how they can be practiced and exemplified in your life in this retreat!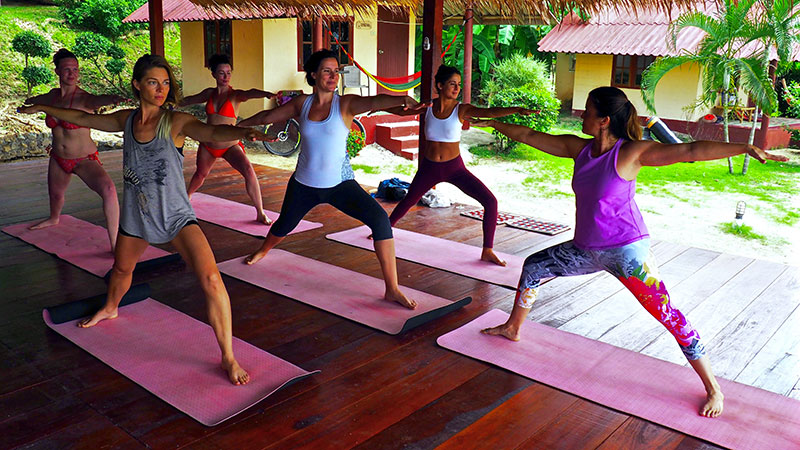 Question: I want to come to the Tantric Yoga retreat in July on Koh Phagnan, but I don't exactly know what I am signing up for! Is it Safe? Sexy? Fun? Authentic?    What I am looking for in a holiday with purpose?
Its all of this. Just say YES! July 5-10 at a private Villa overlooking the ocean with a salt water pool and amazing vegetrain Thai and Western food.
Tantric Yoga Retreats are the specialty of Open to Bliss and of the teacher, Satyama Ratna Lasby. The retreats focus on the combined subjects of yoga, Taoism, neo-tantra White tantra and methods of certain types of tantric massage. This is a one-of a kind offering in Koh Phagnan, an intensive yet totally immersive experience  which will use the energy of the group to experience life in a  completely transparent community. With emphasis on sublimation and energetic shifts towards the heart , the retreat has the intention to take truth and trust to a new level, while teaching authentic tantric practices for our physical, mental spiritually sexual health. 
 You Will Learn:
How to refine and harness sexual energy to be used for work, play, protection and manifestation through yoga and unique meditative practices  (Osho meditations, dynamic, kundalini, nadhabrahma, No Dimensions, vipassana and tantric touch meditations)
Kriyas and purification techniques to ready the body for a new level of healing, resolving possibly even karmic conditions.
How to sublimate lower energies both in yoga and in intimate situations in your life.
Tantric Yoga practice and the break-down of techniques will awaken your innate Life Force (Kundalini energy) changing how you see the world, and how others perceive you.
Asana practice in hatha, vinyasa and yin tantric awareness

Sexual Vitality Pranayama techniques,  Uddyiana Bandha and Nauli Kriya

Taoist cultivating, circulating & sublimating, Mantak Chia style

Masculine-Feminine Dynamics – direction and flow, how to balance your yin and your yang

Tibetan Tantra and use of tantric mudras 

Conscious communication and work on transparency, trust-building and authenticity to self, partners, other women, other men

Cultivating the multi-orgasmic response through touch 

Transfiguration and tantric moon rituals for manifestation
In the Afternoon, you will also learn about touch:
How to create and hold sacred space for Chi Nei Tsang , tantric and non-tantric massage
Tila touch points, plus the appropriate time to spend on which points to remove blocks in the body
De-armouring of the abdomen and sexual organs
How to remove unconscious mental protection barriers and cultural conditioning through communication 
How this profound type of massage heals
A woman's internal potential through the body – A, G, K spot inductions, plus Taoist breast massage
Men's mapping and trust
The retreat is open to singles and couples, so that we  can learn this for each other. 
A survey is done with each person registering for the retreat so that the retreat is designed for the interests of the group.
Email? Send one! info@opentobliss.com