The Tao of Tantric Yoga
A Modern-Day Approach to Tantric Discovery via practicing tantric yoga and learning what it is, through sexual awakening and healing, celibacy and looking at open-relationship lifestyle mistakes from the perspective of a female tantra teacher/ a woman.
by Satyama Ratna Lasby, HBA, RYT 500 hours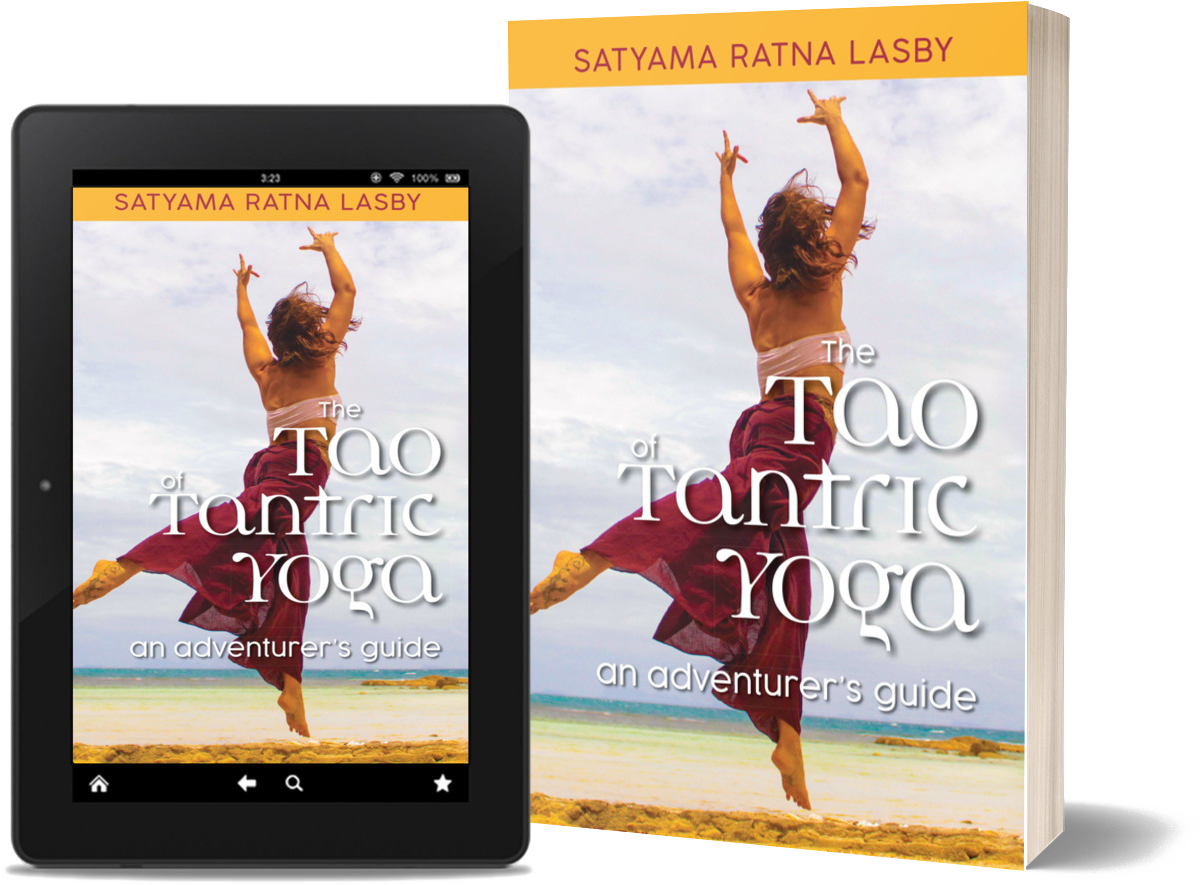 Who is "The Tao of Tantric Yoga" for ?
Lasby's revealing account of the study, embodiment and leadership of Tantric Yoga is simple and to the point. Learn  her recounted experiments in tantra and life in intentional communities. Learn how to study meditation so that tantra education makes sense.  Learn what is a tantric community (learn that Koh Phagnan is not a community), really, and how to live in intentional communities, how to find an intentional community that is right for meditators and yogis.  Learn how to do Tantric rituals to spiritualize your love and your intimate life.
The book can be ordered here or on Amazon. 
What Readers say about "Tao of Tantric Yoga"
The Tao of Tantric Yoga finally gave me some practical exercises and tools to try tantra, and also to know I wasn't going crazy in trying to learn what tantra is! I have been practicing uyoga for a long time but always feel like there can be more in life, and by adding a tantric element into a practice, there really can be! I learned whagt Tantric Yoga is, that its not all sex-ual and that I can become more confident in life and in my personal life through the study of Tantric Yoga!
The Tao of Tantric Yoga gave me a new perspective and suggestions I would have never tried without reading the author's personal accounts in her life. Lasby is obviously a dedicated practitioner of yoga and meditation, and also women! I gained a new perspective on women from this book, great knowledge about yoga, and I am gathering the courage to try a suggested ritual. love.
Your content goes here. Edit or remove this text inline or in the module Content settings. You can also style every aspect of this content in the module Design settings and even apply custom CSS to this text in the module Advanced settings.
About the Author – Satyama
Satyama Ratna Lasby has been teaching yoga with depth  for the past 20 years. With certification in Integrative Yoga Therapies, Sivananda, Yin and the Hatha Vinyasa styles of yoga, she draws also upon her work as an Osho therapist and an art and dance therapist in order to bring comprehension to tantra as a spiritual study and aspiring to gain ultimate experiences in unification.
Tantric Yoga and her style of teaching it in retreats, trainings and immersion programs has been her answer to unravelling the human condition of suffering. It is through Satyama's belief in the power of meditation and yoga that we can life optimally, free from shame, fear and guilt. To get to freedom is a process that will include the investigation of Tantra. Tantric concentration evolved in her teaching and search to live in an intentional community with a focus on meditation and love.
Satyama's extensive experience in bodywork has led her to teach Chi Nei Tsang and Karsai Massage (healing tantra work) trainings. She is also trained in deep tissue massage, lomi lomi Hawaiian massage, cranial sacral therapy and thai yoga massage.  She also builds on her experience with intentional communities like Osho and Tamera in her retreats mainly held in Koh Phagnan, Thailand.
Pre-Order Your Copy Now
Lasby's revealing account of the study, embodiment and leadership of Tantric Yoga is simple and to the point.]