7 days Yoga and Tantra Retreat in Bali, Indonesia – July 1st-8th, 2016

On the first week of july 2016, experience two classes of yoga/day in the styles of Hatha, vinyasa flow, yin and tantric styles in this new retreat, designed to give you the BEST of what Bali's spirit can offer.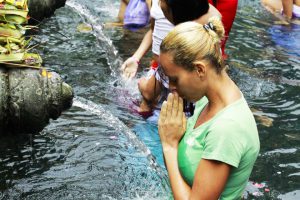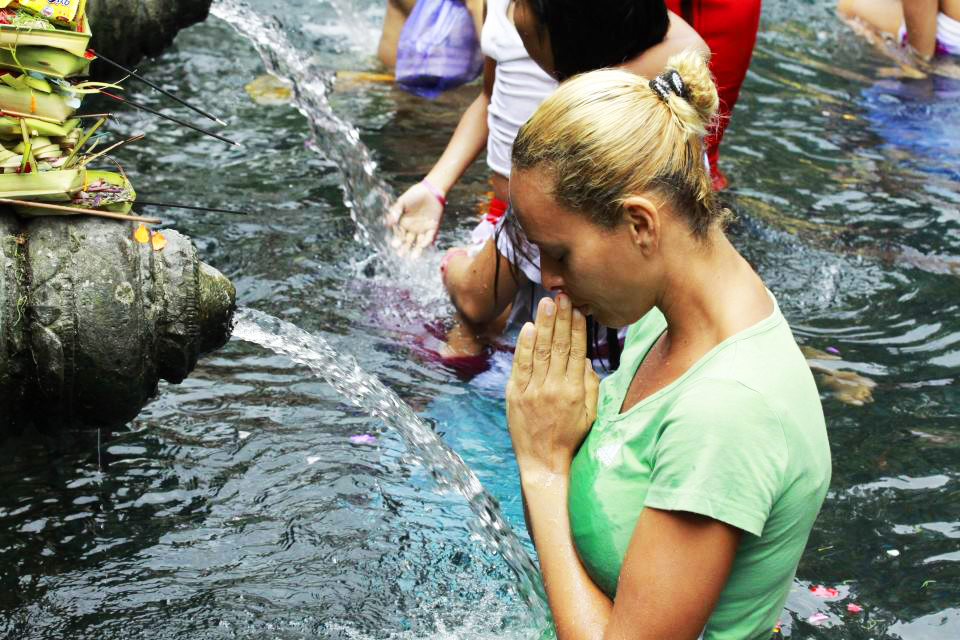 Yoga and meditation teaching, amazing international yoga teachers, surfing lessons on black sand beaches, Balinese culture – home, offerings, beliefs, Gods, as well as the amazing Balinese food, along with teaching about tantra and its authenticity is woven nicely into this retreat which will rejuvenate those in need of a holiday, while teaching secrets to longevity, pleasure, and bliss in human life!  While the schedule is full of experiential teaching and learning, you will also be given endless options to relax, be at Berewa beach in Canggu and chill out with a fresh juice after a Balinese deep tissue massage when you need your space, on your time. You will never forget your summer 2016 yoga, tantra and surf retreat !
What this tantra retreat is about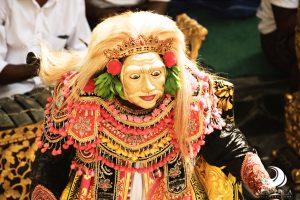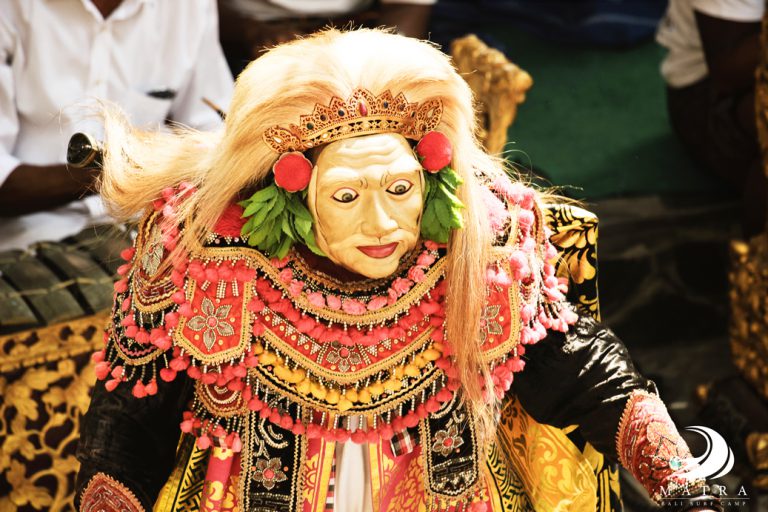 Join us for an intimate 7-day july retreat in the beautiful area of Berawa, Canggu in Bali.
The Find Your Spirit Retreat features all-inclusive private accommodation and an amazing, varied schedule so you can find your Bali spirit this summer 2016!
YOGA every day, a trip to water temple, surfing, massage and cooking class.
Week Schedule – different activities are scheduled for each day of the retreat! See below for a description of what we will be doing during this july retreat!
Day 1: Check in after 2pm, 5pm Opening circle, 7pm dinner at Matra Bali
Day 2: Trip to Tirta Empul – we will go via group taxi to purify our bodies and minds by dipping into the holy springs and making offerings to the spirit, asking for protection, guidance, and support of our manifestations. You will get wet; you will experience the magic that occurs with prayer and belief.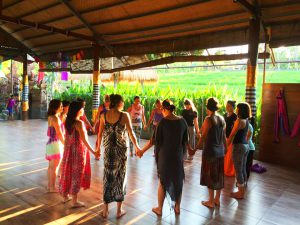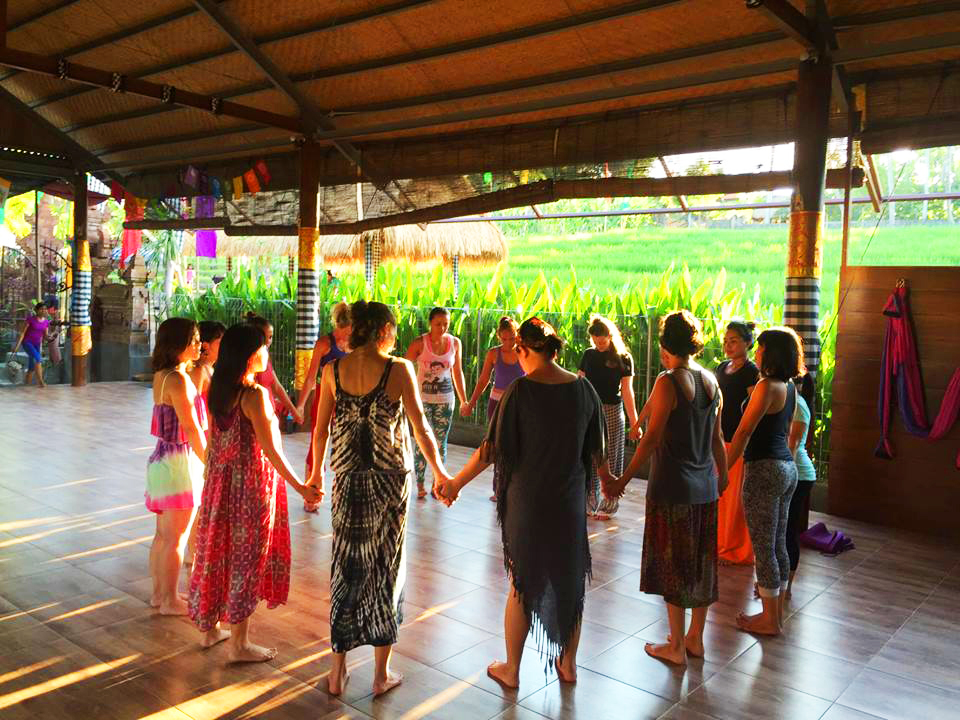 Day 3: Balinese cooking class with Vicky and the senior matriarch of the center – learn the why's and how's to make authentic Balinese cuisine – use the local plants and vegetables, add the right amount of chili, know what to do with that tempo and coconut milk! Bali boasts the best food in the world.
Day 4: What is Tantra? Be led through meditations and a class that teaches the idea and embodiment of living a tantric/yogic life. Satyama will present the levels of tantra, sublimation, secrets of tantric dakinis and how to make the best choices in the area of relating with the self and with another to make enhancements in our increasingly sensitive relating lives.
Day 5: Beach, massage, your pace, your time, give and receive what you need!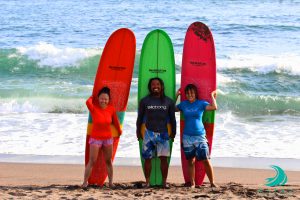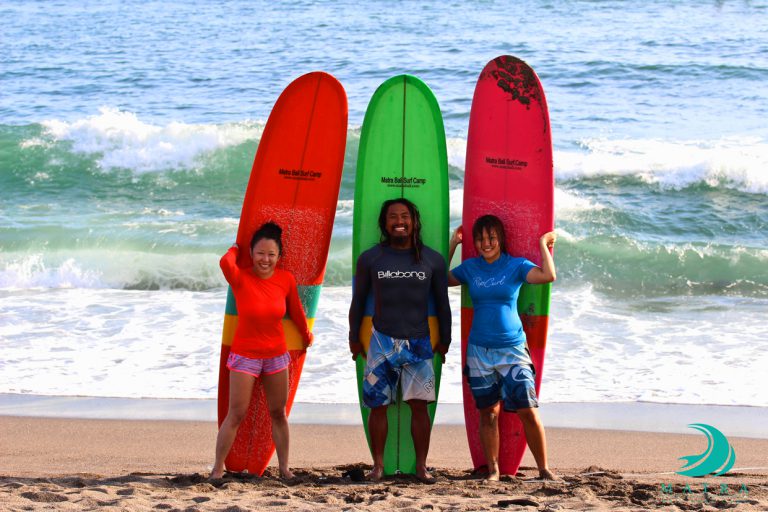 Day 6: Surfing! Get ready to ride the pleasure wave at Berawa beach. We go as a group to receive a grounding lesson on land, an active lesson in the water, and then we ride as much as we can creating a hunger for dinner and stiffness in the body that only yoga practice (and massage!) can resolve.
Day 7: Breaking down yoga postures! Satyama will give a detailed lesson on how to perform asanas properly, the theory behind chakras and their importance, which asanas are performed to bring complete balance in the body, mind and spirit. Be inspired to go further in yoga or your activity/sport of choice.
Day 8: Final Yoga performance, closing circle, photos, goodbyes. Check out by noon.
Daily Schedule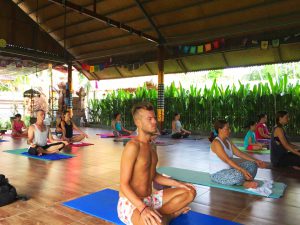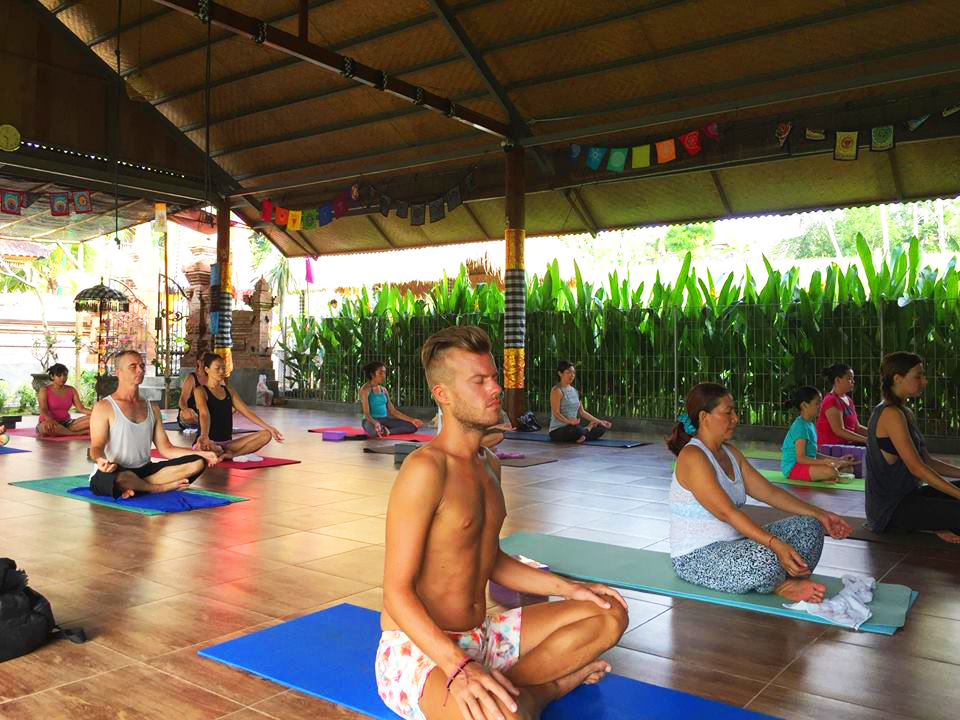 7:00am meditation (optional)
8:00am yoga practice – Hatha or Vinyasa
10:45am vegetarian brunch
12:00 noon– activity/teaching/beach time
5pm afternoon yoga practice – Yin, anti-gravity
7pm dinner
8:15pm women's circle, movie night, evening meditation, massage for your tired body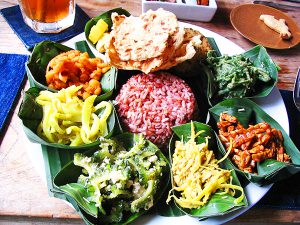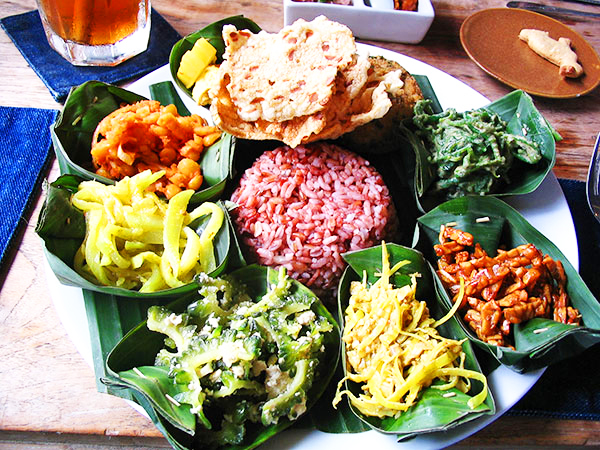 Balinese vegetarian meals are included in this retreat.
Bali has some of the best food in the world, renowned for its quality, freshness, and presentation.
The chef knows what yogis like and prefer. If you have special food requirements, please describe them when you register.
Accommodation
Be treated to your own room at the beautiful Matra Bali Guesthouse with air conditioning, big screen television, a king size bed and hot water so your july nights are restful and integrative of your experiences in Bali. Most yoga retreats in Canggu are with shared accommodation, so this is a real plus! It's happening soon so we have made it affordable for you, as well as for us! We are presenting this new space to the town of Canggu during this july 2016 retreat, and asking that Shiva, Ganesha, and Saraswati are also present for our experiences. Consecration and offerings will be made each day to ensure your enjoyment, meet your needs and show as a success.









Matra Bali Surf Camp is a family-run business set in the heart of Canggu only a few minute distance from surf breaks such as Batu Bolong beach, Old Man's, Brawa beach, or the world famous Echo Beach. Enjoy the luxurious accommodation including spacious bedrooms with queen-sized beds, AC, hot shower, high-speed wi-fi connection, flat screen TV and a safe box. Enjoy a dip in the pool or just chill in the bean bag with a cold one. You can find a cafe on the premises, serving delicious nutritious food (both western and local)  and overlooking Bali's beautiful bright green rice fields. Breakfast is served every day after you finish your surf lessons.
Your instructors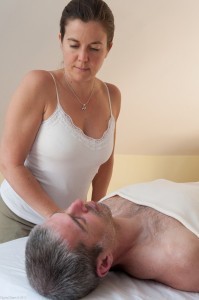 Satyama Lasby has 15 years experience in yoga (Vinyasa, Hatha,  Sivananda, agama, yin) as well as natural healing, cathartic counseling and deep bodywork. She is passionate about bringing the teachings of Osho to the Western mind.
She has lived and taught groups at the Yoga House in Guatemala, the Osho Mediation Resort in India, and Pachamama in Costa Rica. Satyama is currently teaching
her 9th Hatha vinyasa yoga teacher training, as well as specialized yoga and tantra retreats on Koh Phangan, Thailand, Ubud, Bali and also in Portugal.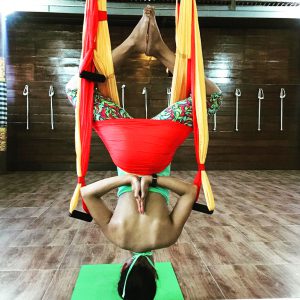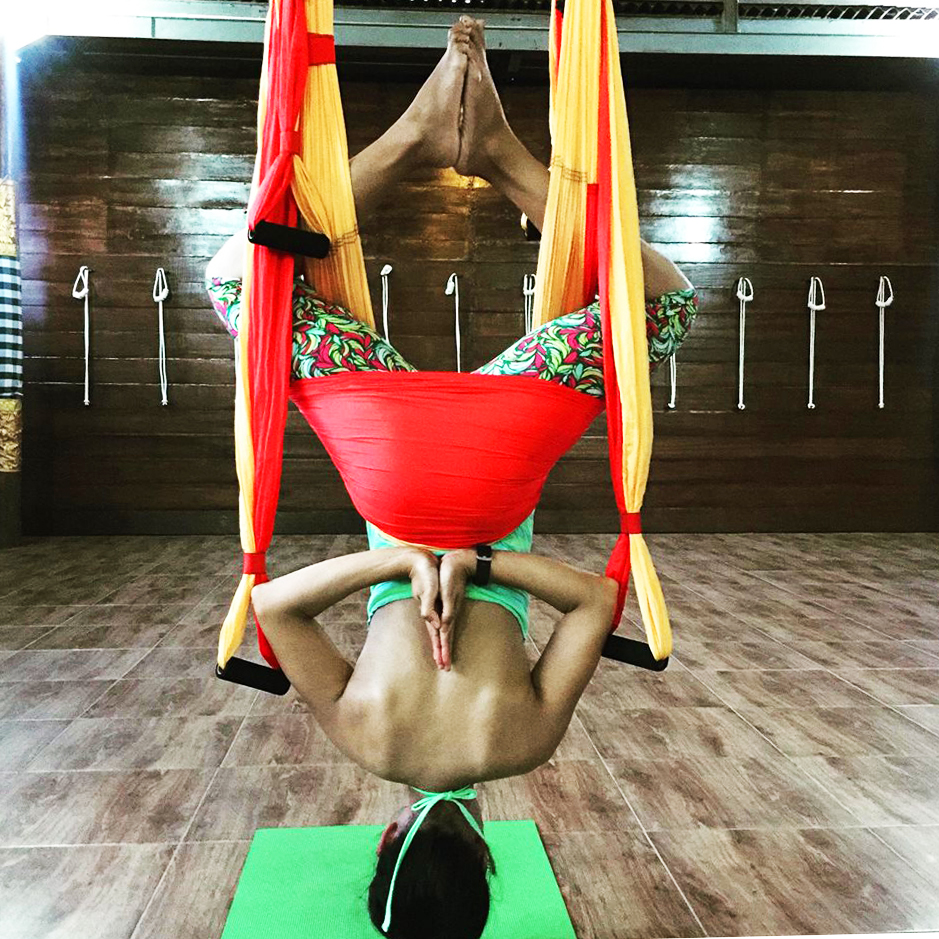 In addition to Satyama's teaching, there are many amazing Balinese yoga teachers  – Putu, Vicky, Vonny, Manu, who are on the yoga schedule for this july retreat. You get to experience them all and really see how East meets West at Pravana Yoga. Its the only Balinese-run yoga center in Canggu!
Investment
$750 early bird price (book before June 14th)
$850 (after June 14th)
Price includes meals, single accommodation, airport pick up and transportation to Tirta Ganga.
Earlybird pricing is in effect until June 14th.
We welcome your questions and would like to know more about you for this retreat. We will send you a few questions upon your inquiry.
Deposit returned for cancellations before June 14th.
Deposit required to hold your booking (limited to 20 people) by PayPal or e-transfer
Use this form to send us a booking demand. We will reply shortly with paypal informations to confirm your booking. A deposit of $350 will be required to book your place. The remainder can be paid in cash upon arrival in USD or Euros.
*required fields