Intuitive Mandala Painting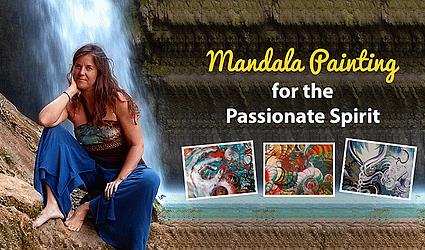 Intuitive Mandala Painting is a unique course on Udemy.com, aimed at assisting people in either acknowledging their creative, artistic skills in painting or changing the way an artist approaches new paintings via meditation, spirituality, breath or yoga techniques.
The course is about a technique called intuitive painting and instruction is given in how to develop one's intuition, to trust what is happening in the moment in the painting, learn how to let go of control and go with the flow of the paint, water and color selection. Participants are invited to go deeply into this work, to identify patterns in painting and in life, and change these ways for greater expression and freedom.
This course has 5 modules, and is designed to take breaks and have lots of painting time in between suggestions, instructions and activities, so it may take between 3-6 days, depending on how much time you spend painting and then changing your painting. There are no mistakes, only process and awareness of your processing of your life issues as you paint! Afterall, it IS a meditation!
The course is structured to give background, guided meditation instruction, or instruction in energy work and some suggested yoga poses to break up the stagnation that can occur when we sit for long periods of time and try to work through a problem without space for reflection and integration. You are given time to paint, just make sure you press stop to enjoy the processing, on the canvas or in your mind or body.
Take this course to become more creative, learn how to paint with greater courage, and to learn about meditation and the mind. Learn about the mandala process and discover purposeful living through painting your life story. Process events or emotions through this style of painting, reveal your patterns in your artwork.
Save $20 on our online course "Mandala Painting for the Passionate Spirit" on Udemy!
Only $50 – Click Here
The online course has 5 modules in painting techniques, visual journaling, meditation and learning how yoga poses can affect the way you are painting right now. Use painting to figure out your life purpose, answers to burning questions or direction you need to be going to live a fulfilling, intimate life with enriched experiences.
Watch the introduction video to the course here